There's a movie out there with that title and it is both moving and fascinating. And while I am not the kind of dyed-in-the-wool-die-hard-fan, the man has accompanied me for quite some time.
This will be my personal Springsteen story, together with an overview over those concerts that didn't get a mention in my blog previously (in Part 2 of this post)
A word of advice first:
Credits to whoever captured that so perfectly. It is all true.

The eighties came with a major shift in my music taste. Within a few months my favourite music had changed from the hard rock bands like Uriah Heep, Deep Purple and Black Sabbath to The Clash, The Cure, Fischer-Z, The Ruts and all the other wonders of the punk and new wave scene.
My first ever concerts had been Uriah Heep twice in Offenbach in 1978 and 1979 and next I saw The Clash in Wiesbaden in May of 1980 in Wiesbaden's Wartburg Music Hall. Changes come.
While my new favourites were only accessible by exchanging vinyl and tapes on the schoolyard, German television featured the 'Rockpalast' and the so-called 'Rocknächte', concerts with three to four bands, playing late at night into the morning on the TV.
Some I saw and I vividly remember one in which during the break between two acts, one of the organizers, Albrecht Metzger played a video of his favourite act, the one he unfortunately never would get to play in a 'Rocknacht': Bruce Springsteen. Performing The River. I didn't get all the words, but my, did that song move me. I felt touched deep within. Was it the bleak outlook that resonated so much with the age of entering Thatcherism/Reaganism or the thrill of a first time experience with a girl (at that time I wouldn't rule that out for hormone-driven me…)
I didn't care very much for the rest of Springsteen's catalogue at that time and later on – as Frank Turner just recently phrased it so correctly: "Springsteen was the guy in the blue jeans, and white T-shirt, with the American flag, and who gives a fuck about that guy?"
Like many others I didn't like Born in the USA for it's bombastic arrangement (had I paid more attention to the lyrics, I might have judged differently) and of course I'm on fire, Cover me or Dancing in the dark were okay in my opinion.
I like a good pop song.
Fast forward to 1996.
In spring that year I encountered my first depressive episode. Triggered by a betrayal of my trust by a guy whom I – until then – considered a friend, I was all down and out, wouldn't want to move or do anything. My wife took the kid and went shopping, asking, whether I would need anything.
'I recently heard a song on the radio that struck a chord with me, could you try and get the new Springsteen album 'The Ghost of Tom Joad' for me?'
She succeeded and I listened to the CD for four days more or less constantly. Never before did music have such a dramatic effect on my mood. I felt completely changed for the better after these days.
A few days later a colleague recommended I listen to 'Nebraska' as it would be similar to 'The Ghost of Tom Joad' in terms of mood and subject. Did so and loved every minute of that iconic album (Thank you, Jane!)
Shortly after I found myself on a plane to training camp in Spain with my sports club, 'The Ghost of Tom Joad' on my headphones and 'The Grapes of Wrath' as the reading task for the two weeks ahead.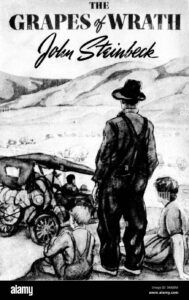 Became good friends with Jörg on the journey and boy, was he (and still is) a Springsteen-fan. Never met anyone close to his level of sheer madness when it comes to all things Springsteen-related.
I could write endlessly about that, but will only go so far, as to acknowledge that I would never have entered Springsteenmania without his ever so friendly efforts, providing me with tapes, CDs and nowadays links to all the special releases.
Thank you, my friend. You're my real life Roops1.
We went to our first Springsteen shows together, way back in 1999, at the Köln Arena and in Offenbach the same year. Those will be in Part 2 of this blogpost. Since then I have been to at least one concert on all tours – but one. Right at the anniversary tour of The River I was not at all in a Springsteen mood.
But this year things were different and Düsseldorf was a wonderful milestone, hopefully not the last to come.

"Is a dream a lie if it don't come true –
or is it something worse?"
– Bruce Springsteen, The River
---
Show 1 footnote
If you haven't seen 'Blinded by the light', Gurinder Chadha's wonderful movie about a young Pakistani in Luton, England having his life changed by The Boss – Roops is the guy supplying the main character, Javed, with his first ever Springsteen tape ;-) ↩