Our final show for 2018 – one of Jenny's favorite bands and both of us had not seen them live before. I am glad we got that rectified!

But before the fun we had to master several obstacles – the first being an abundance of cars blocking A66 on their way to the Main-Taunus-Zentrum mall for Black Friday1. The delay was tolerable, though, and the rest of the journey uneventful.
When we arrived at Schlachthof we encountered the next unpleasant surprise – there was only a minimum of security, hence people were queuing all the way to the main train station in Wiesbaden2. And it was cold.
So we sat down at 60/40 pub for a cold beer in a comfy and warm surrounding, while the others continued to trickle down the few lanes into the venue.
Eventually, we got inside at a quarter past eight, and the support, Firkin from Hungary had started their set already. We found them quite entertaining and got ourselves a good position on the left of the stage, close to the beer booth and the toilet/wardrobe/exit area.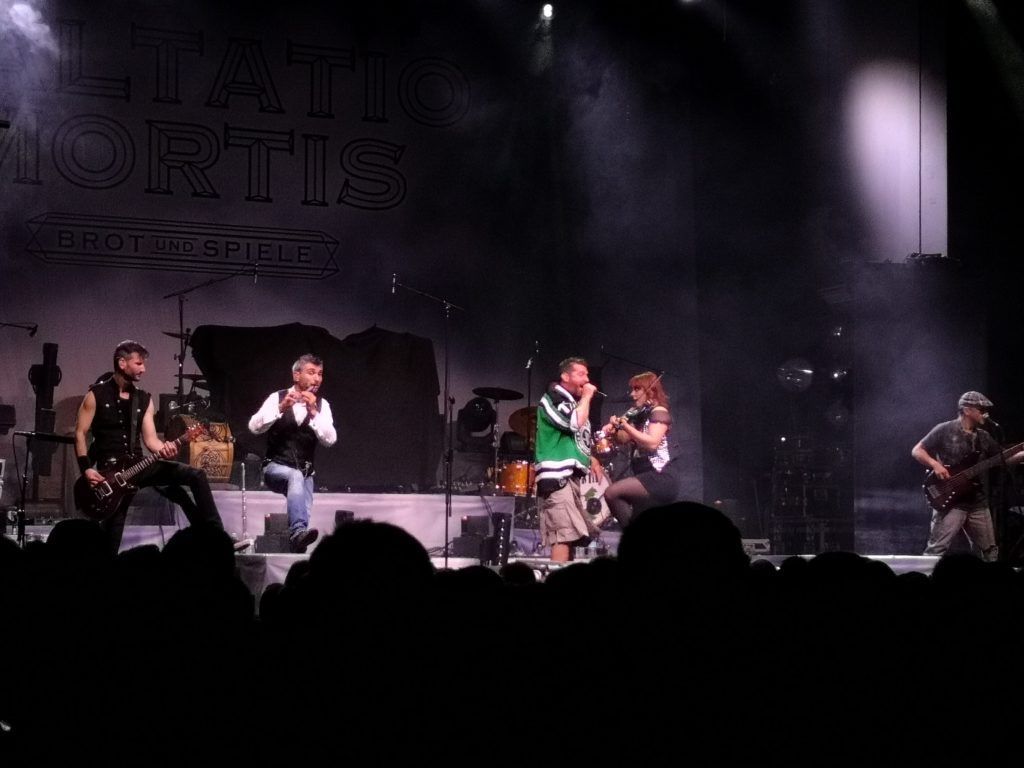 Our position got even better when the crowd started moving during stage reset – I had a feeling all the time that a lot of the people were quite inexperienced at being at concerts. But they were all very friendly and quite nerdy, we therefore felt at home. @Schlachthof anyways, I love that venue so much and if I lived in Wiesbaden still, I'd be there constantly.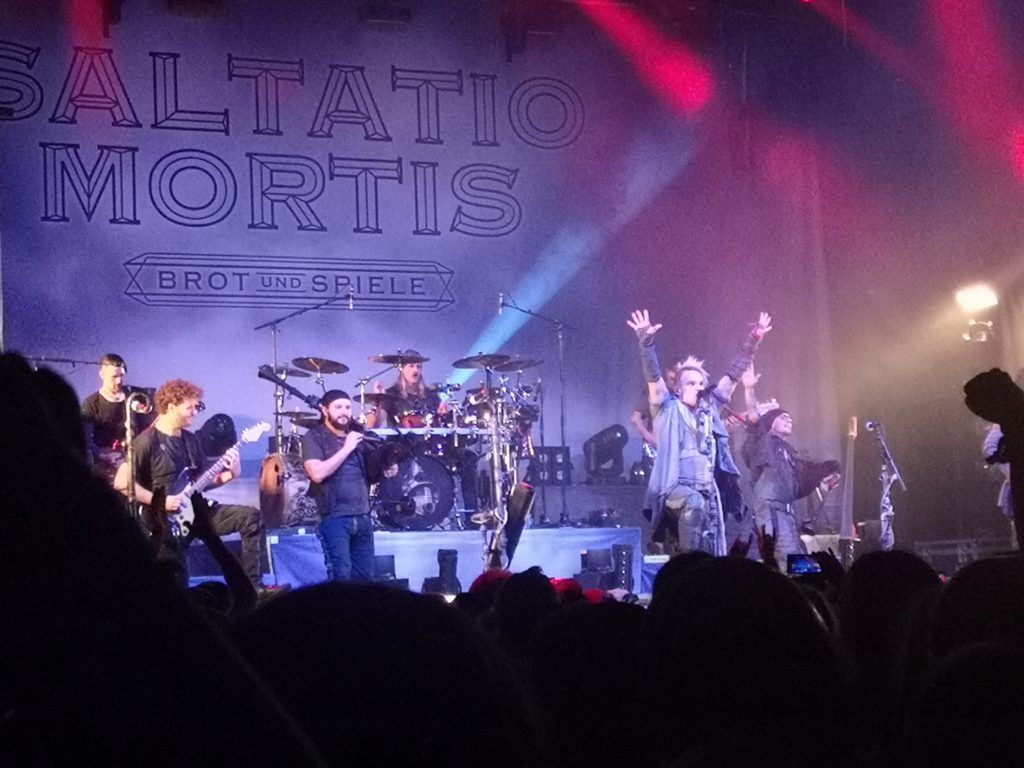 Saltatio Mortis started as a medieval rock band, but have IMHO arrived at a state of punk/stadium rock with medieval elements and since those are made up mainly by the bagpipes, I more than once had the feeling of a Dropkick Murphy's show with German lyrics :-D
The majority of the songs are really energetic and jumping/clapping/singalong is the standard – not only for the die-hard fans (of which there were many). Also, there is much more politics on the latest album Brot und Spiele. I was happy to discover my judgment being confirmed by the drummer in one of the videos they made to explain the songs on the album in detail.

Europa and Besorgter Bürger are prominent examples of this development dealing with the present situation and the right-wing uprising throughout the continent. From what I am learning about the band I feel it is the right move to get their profile more defined in order to avoid some misunderstandings from the past.
Luckily the songs seem to be well accepted. It may not be the typical Antifa-crowd, but I like it nevertheless :-)

And Saltatio Mortis provided quite a lot for the amount of money they charge for a show like that: a very good mood, excellent sound and lights, pyros and glitter, crowd surfing and two hours of great entertainment.
Jenny had to get her hands on the singer on his crowdsurf through the arena3 and I managed to get our coats with a li'l white lie quite easily. Personal satisfaction on all accounts.
Wonderful show. CU again. Definitely. :-)4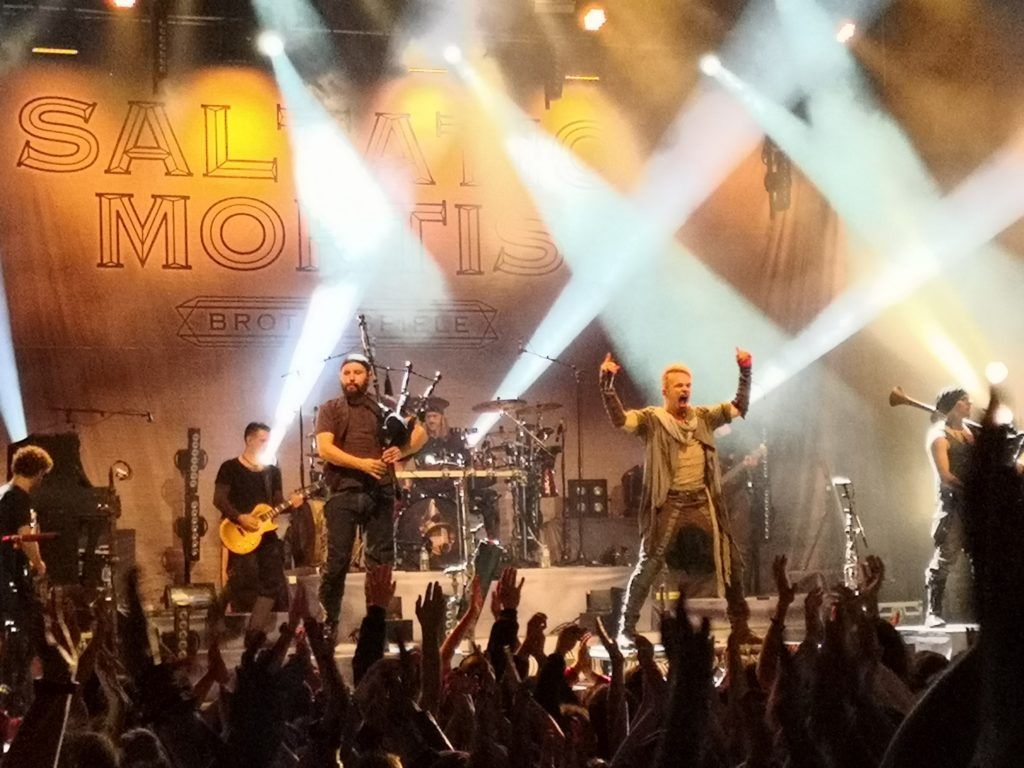 I couldn't find a setlist for Wiesbaden anywhere, but the one from Oberhausen strikes me as being very similar to the Wiesbaden concert.
Please provide corrections in the comments thank you very much…

Ein Stück Unsterblichkeit (Intro)
Große Träume
Dorn im Ohr
Wo sind die Clowns?
Brot und Spiele
Wachstum über alles
Europa
Besorgter Bürger
Idol
Spur des Lebens
Galgenballade
Raghs-e-pari
Heimdall
Brunhild
Ich werde Wind
Träume aus Eis
Nie wieder Alkohol
Rattenfänger
Prometheus
Sie tanzt allein

Zugabe:
Früher war alles besser
Mittelalter
Eulenspiegel
Spielmannsschwur
– – – Remmidemmi (Deichkind) for stage dismantling
---