Going through my record collection I once again become aware of the longevity of my relationship with Nick Cave and his music.
Starting with the Birthday Party, Deep in the woods – 1983.
The first three records with the Bad Seeds are also part of my vinyl vault.
I often lost touch with Nick's music, but connected easily every now and then, be it for Murder Ballads with Kim or Stranger than kindness in the cover version by Fever Ray.
I never saw the man live (and have no idea why, but for a general lack of interest in concerts during the 90s and only a few selected artists afterwards).
Then in 2017 this would find an end and we saw Nick @Jahrhunderthalle and it was just splendid.
So when the chance arose to join Conversations with Nick Cave at the marvellous location that is Friedrich-Thiersch-Saal @Kurhaus Wiesbaden, I did not hesitate1 and bought the max amount of 4 tickets. And so we found ourselves at the very same location yesterday, Kim, Jenny and me.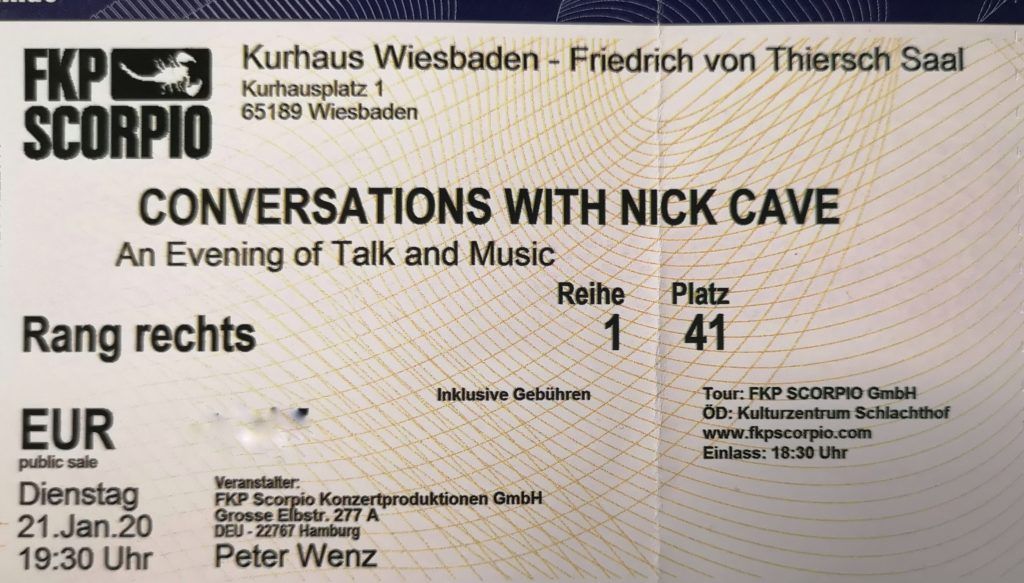 Early in the show Nick mentioned Roland S. Howard, his guitar player in The Boys next door and the Birthday Party and a musician I truly admire.
I saw Rowland twice with Crime and the City Solution and found him to be extremely charismatic (apart from his awesome guitar playing).
Nick then played Shivers in memoriam Rowland and I was on the verge of tears for the first time.
But it hadn't even started yet.
Phones were kept off and questions of various natures were asked. I may go to that at length another time, now is for the memories not to be lost by forgetting.
One question, though, started the next highlight – and on a personal highlight scale this one is a clear 11/10.
"Nick, do you think a songwriter like you deserves a nobel prize – like Bob Dylan? Or maybe Leonard Cohen?"
Nick went into explaining, how formative Leonard Cohen's Songs of love and hate was for him and after a a short introduction he played 'the most important song of Cohen' – Avalanche.
Being the first song on Nick Cave & the Bad Seed's first album From her to eternity, I had fallen in love with it immediately at first listening.
As I never checked the credits I did not know about it being a cover and heard the original by accident in 2002 for the first time…
In all variations, Avalanche until today is one my all time favorites and I was deeply moved yesterday by the interpretation just with the grand piano. One of those moments you think will never happen.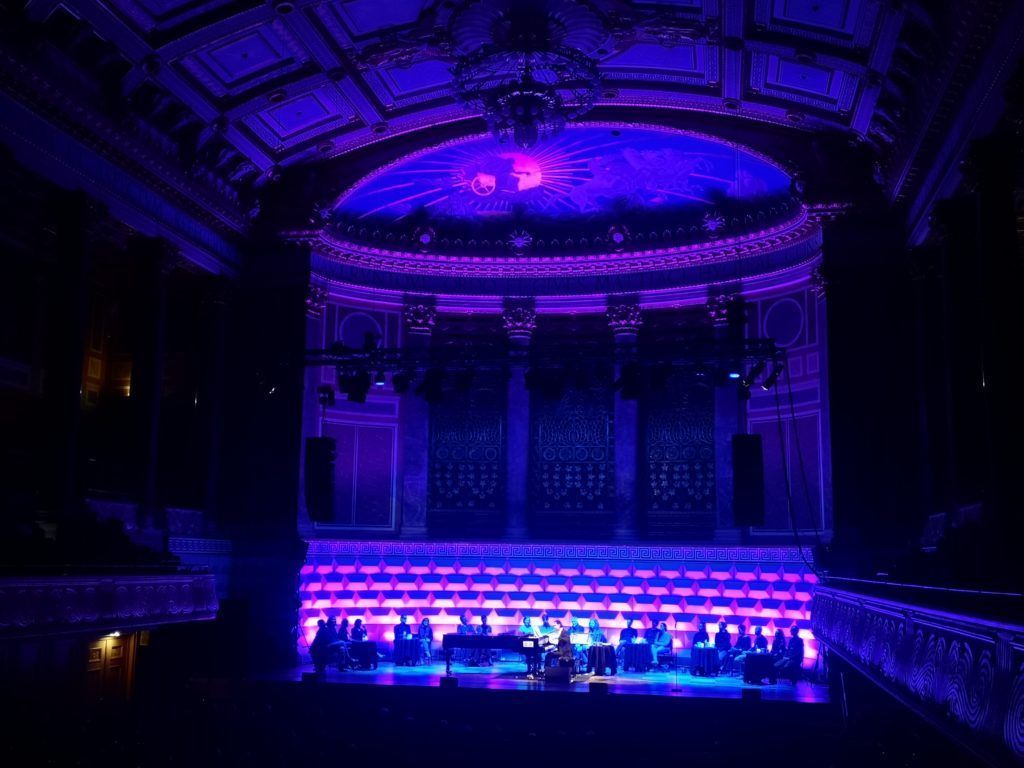 Towards the end, another of those moments: Nick started to play the 'best song of the Bad Seeds, written by Blixa Bargeld, words by Anita Lane' – Stranger than kindness… <3 <3 <3

Only one more song, then the encores and a wonderful evening found its end.
A few notes about venue and the format. Kurhaus Wiesbaden is a very fancy location with great sound. Cozy is one word for the seating, on the balcony your punishment for front row seats is a profound understanding of 'economy'. Or . it is best if you're short, or you will have your ears between your knees. With the wardrobe next to the entrance they definitely achieve a maximum of confusion when entering and leaving the venue.
Don't get me started on drinks or catering.

Format: It was a very interesting experience to attend this kind of show.
Will not do it again, though.
Don't get me wrong, Nick is gorgeous, his answers show a lot of compassion and intelligence and lots of humour2.
The questions are something else.

Well, experience is what you gain when you would have needed it, I guess.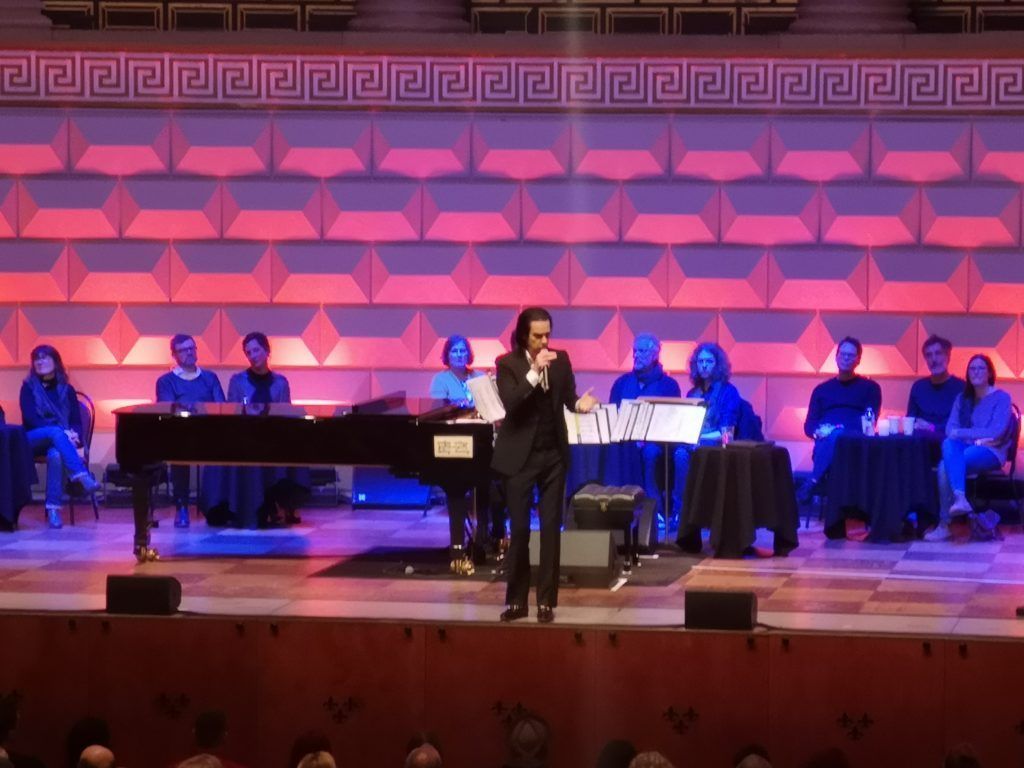 Setlist:
God Is in the House
The Weeping Song
Shivers
Avalanche
Jubilee Street
Sad Waters
Into My Arms
Papa Won't Leave You, Henry
Waiting for You
The Mercy Seat
Palaces of Montezuma
Lime Tree Arbour
Cosmic Dancer
Stranger Than Kindness
The Ship Song

Encore:
Skeleton Tree
Love letter
---
Show 2 footnotes
though my plans for 2020 are to attend less concerts and save a bit of money that way ↩
There were a lot of laughs ↩